Nationwide Silo Evacuation Services
Abbey's nationwide silo evacuation services are available at short notice and our team of silo evacuation professionals operate throughout the UK, getting to customers quickly to keep their products flowing and their site operational.
Our focus is on speed and removing contaminated products, blockages or spillages without delay and get sites up and running with  minimum disruption.
Our team can also be called upon to perform silo to silo transfer and remove products from tanker trailers or any other vessel that has materials that need to be removed.
Specialists in Silo Evacuation of Powdered and granulated Products
Abbey can provide silo evacuation services for both food-grade and non food-grade powder and granulated products. We can provide all previous load information to ensure product compatibility and where required, our silo evacuation tankers can be deep cleaned at one of Abbey's own accredited tank wash bays to comply with any load regulations.
The UK's largest food grade bulk Powder Road Tanker Company
Abbey Logistics is the UK's largest bulk powder road tanker company for food grade products. We have extensive experience in sugar, flour, salt, starch and most other powdered and granulated products.
In addition to food products, Abbey work with the some of the UK's largest polymer, cement, lime and ash manufacturers which gives us the knowledge and experience of product characteristics and our team of planners and drivers are on hand to provide advice and take an operational lead to quickly provide solutions and get our customers up and running again quickly.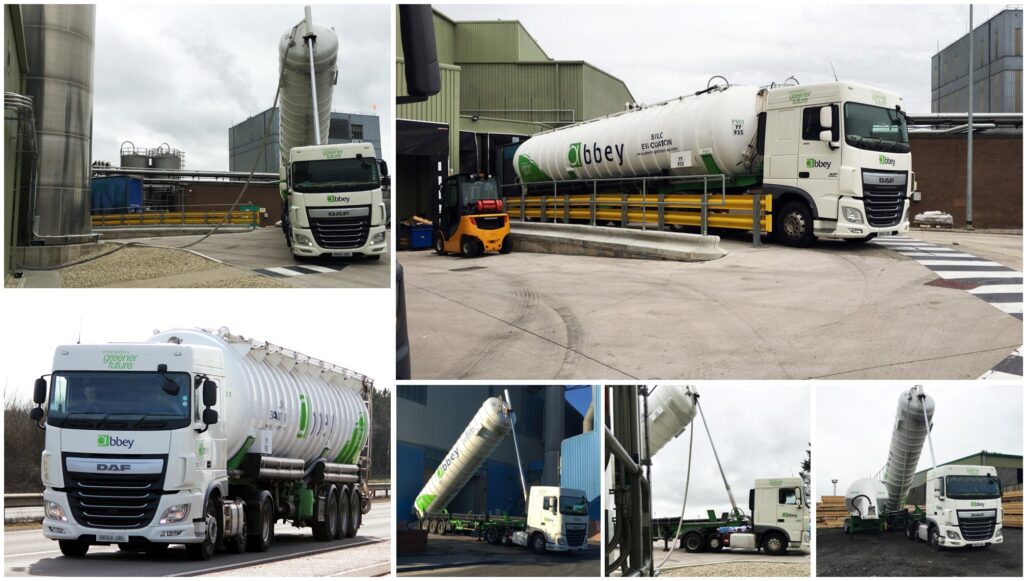 Supporting Customers Quickly 
Responding quickly is usually vital in silo evacuation. Our Customers production can be significant restricted or even stopped due to a blockage or contamination, therefore it is essential we are able to respond as soon as possible.
To enable us to achieve this our silo evacuation fleet is based in Middlewich in Cheshire and we are able to respond to customers anywhere in the UK and be on their site same day or next day.
Nationwide Silo Evacuation Fleet Support
Evacuated products can be transferred to our own or third party tanker trailers, bulk bags or bag in box containers. Once removed from your silo, we can provide onward distribution, storage or disposal anywhere in the UK.
SUPPORTING SERVICES
In addition to silo evacuation we also can help with major spillages or any powder, granulated or pellet clean-up operations, and through our bag to bulk, rip and tip services on the Wirral, we can also decant evacuated material into bulk bags and securely store at our warehouse facility.
CALL US TODAY
TO SPEAK TO US ABOUT OUR SILO EVACUATION SERVICES, HOW WE CAN HELP OR JUST TO LEARN MORE ABOUT WHAT WE DO, PLEASE CALL:
PAUL LAVERICK, HEAD OF OPERATIONS ON 

07753 819 678