Drivers Week
This week we celebrate the ability and dedication of our drivers. Every day our drivers achieve outstanding performance and commitment to Abbey Logistics customers.
Our team wanted to recognise all the drivers who go above and beyond every week on the roads making sure our customers receive the best service and standards in a safe manner. Therefore, we have put together some of our drivers' stories and an overview of what a normal day as an HGV driver for Abbey Logistics looks like.
LEWIS FRANCISCO – LIQUIDS NORTH WEST
Lewis is based at our Liverpool depot, below is Lewis's typical day in his own words…..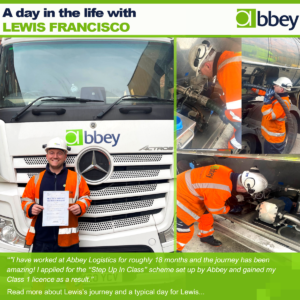 As a Monday – Friday tramper, no two days are the same. I am a bulk liquids driver and will transport foods such as: cooking oils, glucose, lecithins, food acids (non ADR), honey, malt, mineral water and many more. On a typical midweek shift i start as early as possible to beat the morning traffic. I'll complete vehicle inspection, check up on any job notes and also plan my first route; the first destination would be either to load, deliver or to a wash facility to clean the tank.
In the morning, I will get a coffee and freshen up either at a service station or at a depot, whichever I am nearest to. I like to listen to either TalkSPORT radio or a Podcast throughout the day whilst driving.
I usually load, deliver and wash a tank out through the day and these will be at different locations across the country. The planning team do a good job of planning work efficiently so there isn't much distance to cover when travelling empty.
I like to park up of a night in a quiet parking location with little traffic or in one of our depots. I find that service stations and truck stops fill up too quickly throughout the evening and they can often be noisy places during the night when drivers are starting work. I generally only use the services throughout the day for light refreshments or for a shower. The meal selection at a services is not the healthiest so I do my own food shopping on a weekend.
I have worked at Abbey Logistics for roughly 18 months and the journey has been amazing. I applied for the "Step Up In Class" scheme set up by Abbey and gained my Class 1 licence as a result. This is my first driving job and, being slightly younger than the average driver, I had a little bit of nerves when pursuing this as a career. However, the training I initially received and the continuous support has been overwhelming from every corner of the company which has helped me develop to the point where I now believe that I have found a job that I not only enjoy but I am good at too. I truly feel valued as a driver for Abbey and have healthy working relationships with drivers, planners, trainers and management.
Every day is different and I find that every week I am still going to new places. Due to the wide variety of goods we transport, not only do we get to see the popular household name food factories but also to farms, brewery's, refineries and fuel terminals.
GORDON BALLIE – GENERAL POWDERS DRIVER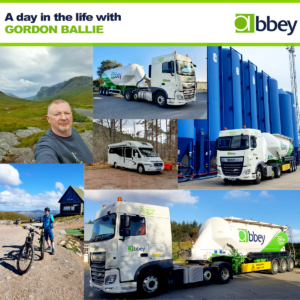 My first job every morning is to make a cup of tea, If I'm already loaded, I tend to try and be at the customer earlier rather than late assuming I can.
My attitude is, I can always wait to tip, but if I'm late then this might be an issue if they are on a pour. I always call the office as soon as I am tipped even if I have been told what my next load is as things can change very quickly in this job. I know I'm away all week but that's OK with me, I prefer to be away all week rather than stay away for a night here and there.
I'm also in my opinion very lucky as a lot of my work is in the north, I can be in Portree, Skye one day then Watten in Caithness the next or across doing a load out of Aberdeen, then being asked to head to Barnstone for a load, how can I complain about that. Ok, it isn't motorways but again I prefer these roads as a whole. The biggest issue is keeping the equipment clean, there is a lot of dust and often cement after you've loaded drops out of loading head afterwards, so I do spend when the weather is appropriate cleaning around the lid. I lube the screws regularly , clean all my clamps, pipes and seals, not always easy with some sites being ankle deep in mud. keeping the inside of the Cab clean is not a major issue, although again, I seem to manage to get cement dust over my clothes constantly, so I am cleaning probably more than I should require. Washing the outside isn't so easy, time for one and facilities for two.
I have to say that every customer I have so far delivered to has been really friendly, which makes things easier plus I have been top places I didn't know existed.
I would say that this job the biggest issue is the lack of facilities around, toilet, shower, food to a lesser extent as I take enough food etc to do me a week, I try and stay away from takeaways, all in all I enjoy the work I do which makes life much easier I think, doesn't matter what job you do, I'm sure that sometimes things don't go your way or some sort of hassles and troubles will affect your day or maybe a week but if these are at a minimum that's fine by me. I don't work weekends, as that interferes with my hobby of mountain biking but if I'm asked to work the odd Saturday I can volunteer due to the infrequency. I really hope that I can continue to do this job for a number of years yet, fingers crossed.
Gina Seafield – General Powders HGV Driver, Middlewich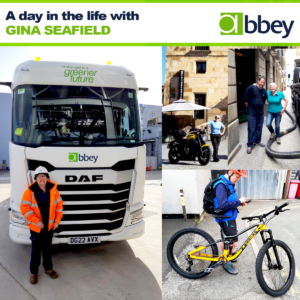 I came into driving because of the job I already had. I worked for an electronics company that had periods of very high and very low production which was financially a worry. On my way to work one morning, I noticed this man driving a big artic, "Well if he can drive that, why not me!" There were plenty of haulage companies nearby so I should never be out of work and that is where my journey started. I did a few agency jobs then after a short time on the NHS contract with another Logistics operator, they offered me a full-time position.
I became a tanker driver by pure chance and fate. Whilst waiting to fuel up the driver of the vehicle in front of me, approached me and said he was unable to move as his ignition key had broken in the ignition lock! I asked for details of the company he worked for and rang them Monday morning to see if they had any positions available. I had an interview on Tuesday followed by a driving assessment and was offered a role with them on the Saturday.
I stayed with my first Logistics Employer for 5 years before moving over to Abbey Logistics which is now 10 Years ago. I work on a 4 on 4 off shift pattern which I really enjoy it is the best work life balance for me. This job has taken me to places I would never have been to. There is the mundane side to it as there is with any job but overall, the job is varied, interesting and sometimes challenging.
On one occasion I was following a snow plough through the Drumochter Pass on the way to Invergordon, I looked to my right and saw a herd of red deer slowly picking their way through the snow off the side of the mountain.
There have been many changes within the haulage industry since I began driving, certainly with the vehicles. I currently drive a DAF XF with the cam mirrors, I was a bit sceptical at first with these cam mirrors but now I love them, They are especially good for night driving and in the rain. They also offer a wider angle of view with no blind spots. The cab is well laid out and spacious with the driving position offering great visibility, its quiet to drive and the gear box is very responsive, overall, a very pleasant vehicle to drive. The bed is extremely comfortable, and the truck comes fitted with microwave, fridge and television which is Abbey's specification for all new trucks.
As a female in a mainly male dominated industry, I was quite apprehensive when I first started to drive. If you can do the job, you are respected and treated accordingly.
One piece of advice I will always remember was – You will always learn something new about the job and never refuse help, even if you don't need any. As one day you will need it and it won't be offered.
Luke Baish – LGV Driver, Wellingborough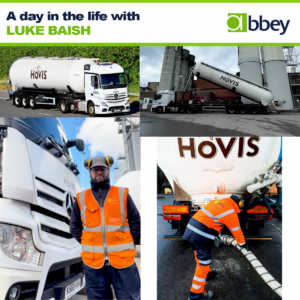 I'm a Abbey Logistics LGV Driver based at Wellingborough on the Hovis contract, and I have been working here for 8 years, first with DHL and then tupe'd to Abbey.
I'm on 4-day week covering Double Nottingham loads, delivering 3 different types of flour out of Hovis Wellingborough.We usually know what we are doing the following day and my work is more fixed than other drivers on site because of my shift pattern, its not like anywhere I have any worked before in that sense. We have new HHD's now and complete the start of shift vehicle checks on them, we have used paper checks up to now so the HHD's are much better.  Nottingham is only 1.45hr from our base so I can do two full loads a day.
On arrival at Nottingham finding a stores person to give tipping information can sometimes take time as they are usually busy in the bakery and this can delay the day .
Nottingham has 6 silos for white flour and 4 for brown, I have to split the loads between them most days because of what production lines they are for – this can be frustrating having to pack away and set up sometimes 6 times in a 12 hour shift.
As a day driver I average 13hr shifts so get to see how the day and the night operations work here. Working with Abbey is quite different to DHL, I think it's the size of the company that works well, we certainly are not forgotten about down here!