Environmental responsibility
Abbey Logistics continuously looks for ways to improve our energy performance across our road tanker fleet and fleet every area of our business, whilst working with customers to support their sustainability initiatives.  Key to this, is delivering environmentally sustainable logistics through a focus on operational excellence, efficiency and a willingness to trial new technology, such as gas powered trucks and an open mind when it comes to doing things differently.
Efficient operations reduce environmental impact
Through providing the most efficient, well-managed operations, we can reduce the impact we make on the environment by consuming fewer resources.
Our efforts include a significant focus on driver training to maximise fuel efficiency across our fleet. Our vehicle telematics system Microlise, has enabled us to focus this training as it gives us full visibility of driver behaviour and has led to a notable increase in fuel efficiency and mileage savings.
Alternative Fuels – Gas Powered Trucks
Natural gas has huge potential as a substitute for diesel in trucks. There's a good supply globally and the C02 emissions are considerably lower in comparison to diesel. Operating range is critical and Abbey recently trialed Volvo's LNG technology which enables an operating range comparable to diesel and perfectly suited to long haul transport.
Abbey is no stranger to gas power, having already trialed both compressed natural gas CNG and liquefied natural gas (LNG) fuels on 4×2 axle tractors in back to back tests with their diesel equivalents l. The tests produced very positive results with reduced fuel costs and C02 emissions, as well as encouraging driver feedback about the vehicles' drivability and comfort.
Discussions and trials will continue on this new technology as Abbey Logistics has been one of the key promoters of this technology and at the forefront of its testing in real-world conditions.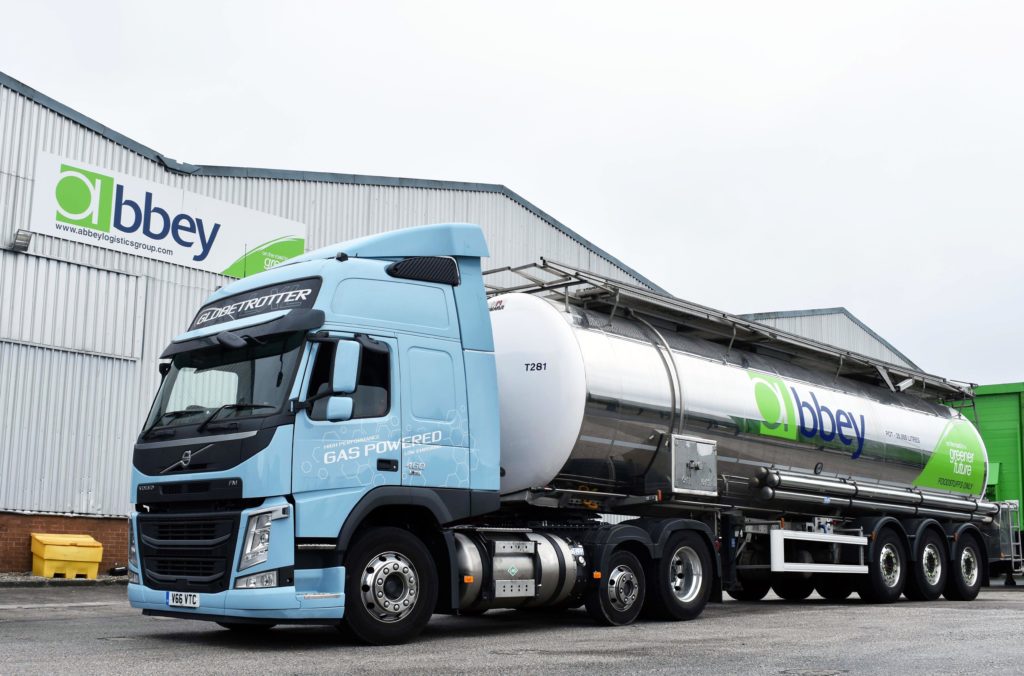 Multimodal Options
Abbey promotes the use of multimodal options for our customers utilising our fleet of ISO tank containers. Tank containers give our customers both the flexibility of transport mode and are significantly more efficient when transported by rail or water than on the road. This option is regularly reviewed with customers, to give them the opportunity to switch traffic to an alternative transport mode where appropriate.
Intelligent Route Planning and Equipment
Route planning is also critical to reduce our environmental impact, for this reason, we invest heavily in training our planners and investing in the most appropriate software to support efficient route planning and scheduling.
Abbey's large modern fleet of HGVs also produces significantly lower emissions than older vehicles and we continue to invest in both an annual fleet expansion and renewal programme with fuel efficiency given the highest priority.