Bulk Powders Road Tankers
Abbey Logistics is one of the UK's leading bulk powders road tanker companies and operates the UK's largest fleet of bulk food powder road tankers.  We offer unrivaled flexibility, short lead times and enhanced customer service for dry, granulated and pourable products across a diverse variety of sectors.
Bulk Powders
Our fleet includes bulk silo tanks, vacuum tanks, urban delivery tanks, tipping tanks and silo evacuation tanks which operate throughout the UK and in Northern Europe.
Customers include major manufacturers in the food, plastics, minerals, construction and non-hazardous chemicals sectors.
Our modern fleet incorporates the latest technology to increase safety, compliance and service and also weight saving initiatives to maximise payloads. All vehicles are fitted with the latest telematics and transport management technology enabling vehicle and load track and trace, leading to the most accurate scheduling and forecasting so our customers know where their products are at all times.
Silo Evacuation
Abbey Logistic's vacuum silo powder tankers provide silo evacuation for a wide range of dry products.
The vehicles are used to clean silos to prepare for a new product or in the event of an accidental spillage, the tankers can be deployed at short notice to minimise damage, contamination or loss of product.
Abbey's vacuum silos have a capacity of up to 60 cubic meters and can be deployed anywhere in Europe to collect product from tower silos, silo trailers and containers, barrels and drums, and virtually any other vessel containing non-hazardous powder materials.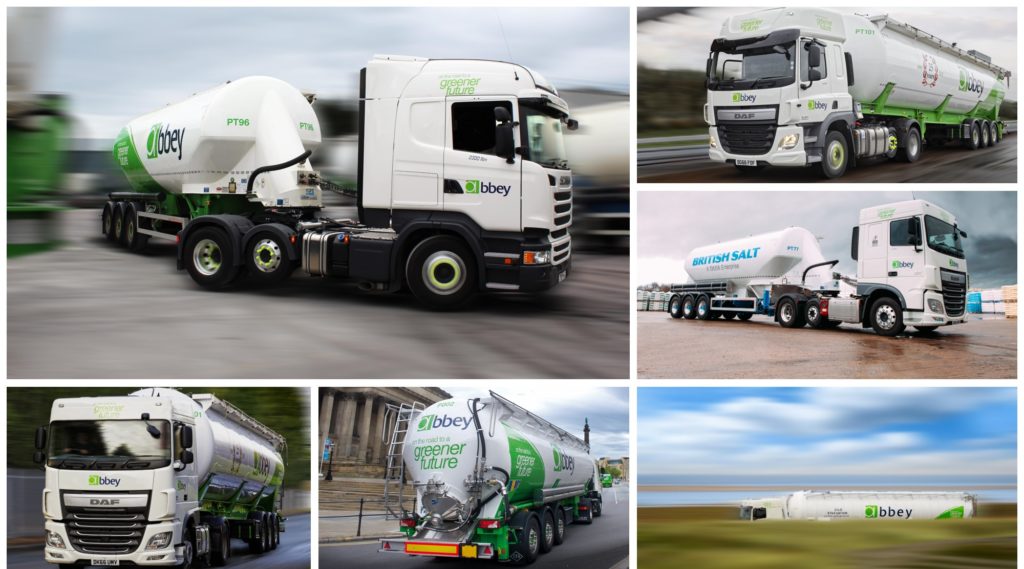 Our expertise in the bulk transport of dry products and powders includes:
More than 220 bulk powders road tankers
Fleet includes a wide range of capacities and configurations and trailers can be specified to suit customer requirements
Bulk tipping silos – full range of cubic capacity
Non-tipping tankers – full range of cubic capacity
Urban delivery vehicles
Nationwide silo evacuation services (vacuum evacuation silos)
Multi modal transport – fleet of 40 foot and 20 foot ISO tank containers
Highly trained and professional drivers
Single and multi-compartment tankers
Bag to bulk materials handling
Products we transport include, but is not limited to:
Sugars
Salts
Flour
Animal feed
Cement
Lime
Sand
Clays
Plastics
Polymers
Carbonates
Minerals
Fly ash
Waste ash
Fertilisers
Road fibre
Paper fibre
Sodium carbonate (soda ash)
Sodium bicarbonate
To find out more call 

03300 552 855

 and select

 option 3

 to speak to one of our commercial team. Alternatively, if you have a specific enquiry, please email us at hello@abbeylogisticsgroup.com 
Intermodal Services
Abbey provides multimodal transport solutions for the shipment of bulk food liquids and powders throughout the UK and Europe with our fleet of 20 foot and 40 foot ISO tank containers.
Our tanks have various specifications to suit a variety of products including pressurised, heated, refrigerated and insulated ISO tanks, and through our highly experienced technical team, we can tailor our ISO tanks to suit our customers' requirements.
We offer driver accompanied and unaccompanied deliveries and operate between the UK and Northern Europe, utilising the experience and expertise we have gained through more than 25 years of food grade bulk logistics we now apply this knowledge to our intermodal ISO tank fleet operations.
Our commitment to providing safe, environmentally friendly transportation of food grade bulk liquids and powders is supported up by our ISO9001 certification, and SQAS attestation.