Fleet Maintenance Expertise and facilities, key to a first-class logistics service
Posted on: 9th February 2021
Abbey's talented engineers and technicians at our vehicle maintenance units (VMUs) in Liverpool, Bromborough, Middlewich and Hull, keep our vehicles and trailers working 24/7, ensuring our customers' can enjoy robust and dependable supply chains.
Our liquid and powder tanker fleet is serviced and maintained in-house wherever possible by our team of IRTEC trained and qualified engineers and technicians, who are responsible for all aspects of vehicle maintenance, inspections, and MOT preparation for nearly 1,000 liquid and powder trucks and tankers.
Our customers need a reliable, and predictable service that keeps their production lines moving with feedstock products, exceptional fleet maintenance is key to making this happen.
High-quality routine and emergency fleet maintenance of vehicles and tankers whilst minimising the time vehicles are off the road is the primary focus of our workshop teams. Our in-house IRTEC trained and qualified workshop teams play a crucial role in the high levels of service we provide to our customers, through increasing reliability and minimising downtime.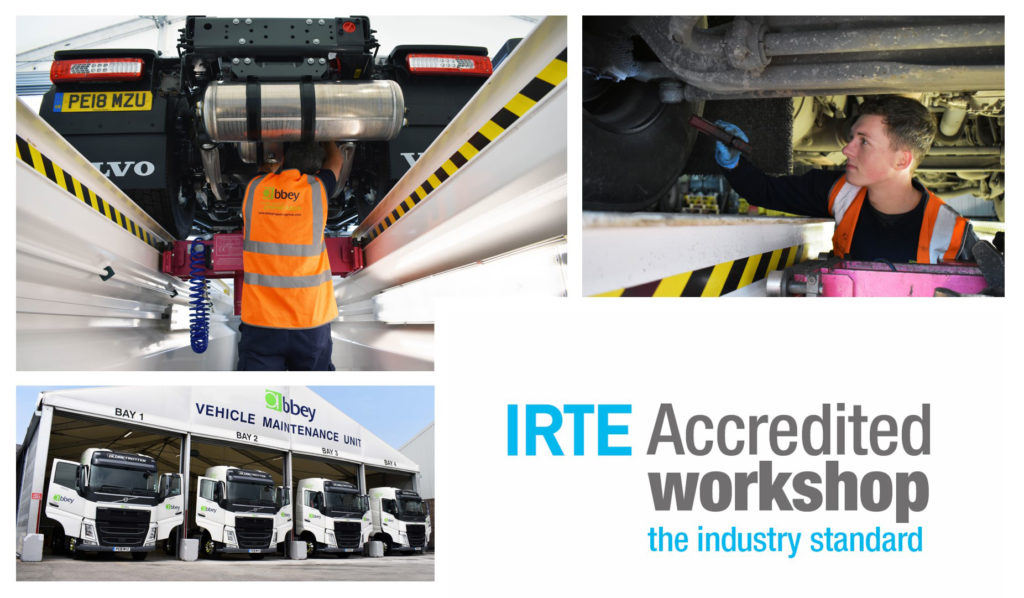 More than Routine Fleet Maintenance
Abbey has invested more than £4.5 million in its fleet in the last six months on new vehicles and trailers as part of our annual fleet replacement scheme and through new business growth.
While our trucks need replacing every couple of years, a well-maintained tanker trailer can last much longer, and still perform just as well as a new one in terms of safety, reliability, and payload.
Service schedules must be followed for trailers, but preventative maintenance and updating and upgrading trailers to ensure they have the latest specifications is a vital part in minimising technical and reliability problems.
Replacing parts before they impact reliability is part of routine maintenance at our VMUs and is key to avoiding breakdowns. In addition to this, over the last the last six months Abbey has invested more than £500,000 in a fleet refurbishment scheme.
Good as new
Abbey's refurbishment scheme updates older trailers with new axles, brakes, and electrical systems to modernise them and bring them up to date with newer trailers on the fleet. Cosmetically, our refurbished tankers have insulation panels replaced, new livery, and a full re-paint and polish.
The combination of refurbishment and preventative maintenance is one of the most important steps we can take to ensure our tankers don't let us down and our customers experience maximum uptime in their supply chains.
In-house capability increases customer service
Abbey operates across the food, minerals and polymers sectors. Many of our vehicles are highly specialist and bespoke for the materials they transport. Abbey has the knowledge and experience of this specialist equipment in-house, which significantly speeds up repair times and ensures the required work is completed by experts who understand the equipment, and have the necessary experience needed for maintaining these specialist units.
Vehicles and trailers off the road are costly and impact service. Our ability to reduce the time they are off the road by managing their maintenance and repair in-house and preventing unnecessary breakdowns gives us a significant competitive advantage in our markets.
Planning for the future
Abbey is well aware of the importance of planning for the future and securing a pipeline of talented engineers and technicians. For that reason, we offer apprenticeship places each year to young people looking to start their careers in vehicle and road tanker maintenance.
Supported by our teams of qualified engineers, our apprentices work towards an industry-recognised qualification through an established and successful earn while you learn scheme.
Abbey's apprentices are an important part of our VMUs and upon completion of their course, go into full-time roles within the fleet team ready to support the following years' recruits.
Exceptionally Talented Team
Our team of technicians and engineers have decades of fleet maintenance experience between them, they take great pride in the work they do and understand the responsibility they have and the positive impact their work has on our customers.
Having such a capable and professional team supporting the business has enabled Abbey to consistently grow, demonstrating to both new and existing customers that one of the most important factors in a dependable and reliable supply chain is a logistics partner who can provide a well maintained, compliant and reliable fleet.