Liam Murray wins Abbey's Apprentice of the Year Award
Posted on: 5th January 2021
Fleet Apprentice Liam Murray has been awarded Abbey Logistics' annual Apprentice of the Year Award 2020.
Since joining Abbey in 2018, Liam has gone above and beyond what is expected of him, he has quickly become an established member of his team and has already contributed several new initiatives in the business that benefit both his colleagues and our customers.
Abbey's Logistics Apprenticeships
As a business, Abbey is well aware of the benefits young people can bring to the organisation, from fresh ideas to renewed energy. This year apprentices joined us in fleet, workshop, finance and health and safety and planning.
An Abbey apprenticeship scheme is a structured programme managed centrally through our HR team with additional training delivered by specialised external training providers.
Apprentices are fully supported during their course, with a nominated mentor and regular appraisals with their Line Manager to ensure they are enjoying their time with Abbey and maximising their on-the-job knowledge and experience while studying towards a nationally recognised qualification.
We offer different apprenticeship levels based on an individual's experience in several areas of the business including, finance, transport planning, health & safety, fleet administration and customer service.
Liam's Story
Liam joined Abbey following a Think Logistics presentation at his School in Liverpool which introduced him to the opportunities available in the logistics sector. Following a series of interviews with Abbey, Liam joined us as a fleet apprentice supporting our busy workshop teams in Liverpool and Middlewich.
Liam quickly established himself as a key member of the team, confidently fulfilling his own role while proactively taking on additional responsibility where he could to gain as much knowledge and experience about Abbey and the sectors we support as possible. Feedback from Liam's colleagues has been fantastic with many highlighting Liam's enthusiasm, work ethic, problem-solving abilities and positive attitude.
Abbey's Apprentice of the Year is decided by the manager of each apprentice and their teammates writing a detailed submission to be considered.  These are reviewed by Abbey Logistics CEO Steve Granite and Head of HR Marcia Findlay. Steve and Marcia evaluate each submission and speak to colleagues of the apprentices to get a true and accurate picture of their performance and contribution to the Group. A winner is then decided upon based on performance, attitude, achievements and potential development.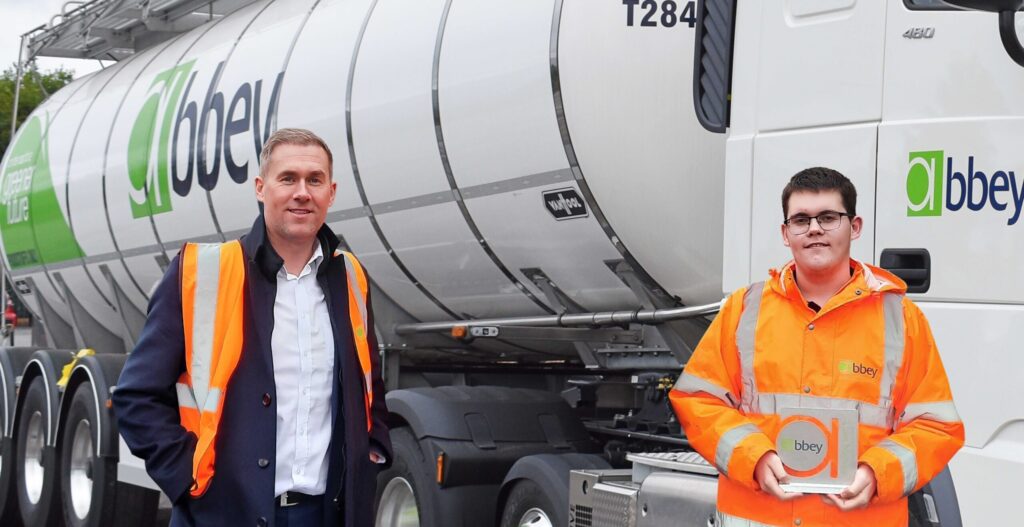 Liam collecting his award from Abbey CEO Steve Granite
Liam said:
"I have been at Abbey for over two years and my role is Fleet Administrator within the Workshop team.
"I have enjoyed my time at Abbey every step of the way and I am now completing my second apprenticeship course after passing my Customer Service Practitioner Level 2 last year. This year I am working towards Team Leader for Transport Manager Level 3.
"Leaving sixth form straight into an apprenticeship at Abbey is definitely the best decision I have made as it has given me the skills and knowledge I need so I can progress within the business.
"I am very proud and grateful of winning apprentice of the year as its great to know my hard work has been recognised by my colleagues. I am eager to continue working hard every day and learning more skills and I am excited to see what the future holds."
Steve Granite Abbey Logistics CEO said:
"All of our apprentices have demonstrated amazing ability this year and have contributed significantly to the success of the business and helped support our customers.
"Liam is totally committed to his role and helping others in his team. He works very hard and always has a positive attitude towards his work and colleagues. He has a very bright future ahead of him at Abbey.
"We have a long and established apprenticeship programme, supported through our involvement in Think Logistics which works with schools and colleges to highlight the opportunities available in the logistics sector.
"Liam's success and the success of all of our apprentices further demonstrates the positive impact of a well-managed and structured apprenticeship scheme and how effective they can be in transitioning young people into the world of work, giving them the skills, experience and knowledge needed to start long and rewarding careers.
 "Congratulations Liam, a well-deserved winner of this year's award."