Abbey's Interns impress with presentations back to the business
Posted on: 12th August 2021
During the last month, Abbey welcomed Kelve and Jemima, two logistics interns that joined the business as part of the Career Ready, Think Logistics Internship programme.
Abbey's internship programme is led by Emma Bamin from Abbey's HR team and is designed to showcase the variety of careers available in the logistics sector and give young people experience and insight into the world of logistics as they consider their career options.
Our interns spent time with teams in HR, IT, marketing, finance and commercial as well as learning about the wider group, what we do and the vital role that logistics plays in the UK economy.
At the end of their internship, both students delivered fantastic presentations back to the business and representatives from Career Ready and Think Logistics about their internship, reflect on what they have done, learnt and what they will take from the logistics internship experience.
It was wonderful to hear that both interns are now considering careers in areas where they worked during their time with Abbey. For Jemima she is now considering HR as a future career and Kelve says he would like to pursue a career in marketing.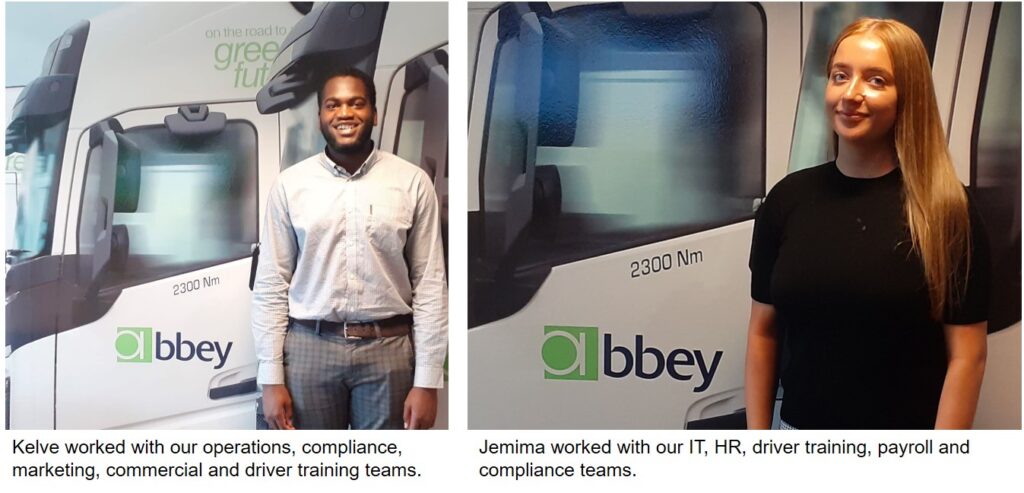 The Benefits of a Logistics Internship to Abbey
We're delighted that Jemima and Kelve both got a lot of value out of their internships but this isn't all one-way traffic. Hosting an intern has many benefits for an organisation, and through our work with Think Logistics and networking with many other companies in our sector that also support the Career Ready Think Logistics Internship programme, we know our peers see many benefits from this scheme too.
Firstly, we have been consistently impressed by the quality of the interns and their maturity and enthusiastic approach to the internship opportunity. All of our interns have contributed new and fresh ideas in the departments they have worked in, giving us a fresh perspective on things that only someone from outside of the business can do.
The process of hiring an intern involves an interview process which is supported by Career Ready, this finds people best suited to their host company, and companies like Abbey know they will have someone joining them that will contribute during their time with the business.
This means that once onboard, our interns are an additional resource and can and do provide support, helping in busy departments within the business.
During their time with a host company, an intern will need the support of a manager, this is a fantastic opportunity to give existing employees people management experience in real-world situations, and from our own experience, we know that our managers have learnt a great deal from the internship programme and gained new skills as a result of the additional responsibility.
There are many other benefits and each intern provides their own unique contribution to the company and we are delighted to continue to support this important programme.
The Sector Needs More Support from Within
If there's one message that comes through loud and clear from our interns it's that they didn't know much about the sector before their internship and were surprised at the variety of different roles and professions available in our industry.
The work of Career Ready and Think Logistics is vital if we are going to address a skills shortfall, and no one is going to wave a magic wand and make the skills gap go away. So schemes like this which raise awareness about the opportunities our sector has, are vital for bringing in the next generation to our sector.
It is up to us as an industry to proactively get out and tell young people that there are exciting and fulfilling opportunities available in logistics, and we know that through the right support and guidance, young people can and do thrive in the industry and achieve great things.
How to Get Involved
If your company is interested in supporting the Career Ready Think Logistics Internship programme, please visit the Think Logistics website for more information or contact Career Ready's head of logistics Bethany Windsor on Bethany.Windsor@ciltuk.org.uk