Abbey's HGV Driver of the Year Announced
Posted on: 6th October 2020
In February, Abbey launched its HGV Driver of the Year competition 2020. The award is to celebrate and recognise the skills and abilities of our HGV driver team and show our appreciation for the job our drivers do.
Driving an HGV is challenging, and a career as a driver requires a specific mindset and unique abilities, it's not your typical 9 to 5 and although most people take trucks on the road for granted, without the drivers the UK's economy would grind to a halt.
Class 1 drivers are the backbone of the supply chain. It would be impossible for the economy to grow or even to function without them. Almost every industry relies on Class 1 drivers at some stage of the supply chain; take a look around you, chances are that each product you see, from the furniture to the clothes you're wearing to the food you eat, has been moved by an HGV at some point.
It goes without saying that our drivers are vital to Abbey's success and our driver of the year competition is intended to recognise the crucial role they play in our company and remind people of the importance of the work they do across all sectors.
A slight change of plan
Drivers have been earning points in a variety of different ways, from driving style to customer feedback. The plan was for the highest- scoring driver from each depot earning a place in the Grand Final, which was to be held at the stunning Oulton Park motor-racing circuit in Cheshire. Unfortunately due to current restrictions the grand final was not possible this year and instead, the winner was decided based on their points earnt in the year.
The scoring system
Using data recorded from Microlise, our trucks' in-cab telematics system, we monitor driving style. Points are awarded each month based on Microlise's own scoring systems. In addition to winning points
for driving style, drivers can also pick up points by completing FORS training modules, CPC course attendance, and getting positive feedback from customers. Points will be lost for infringements, blameworthy accidents, fixed penalty notices and absences.
The Sponsors
We have been incredibly lucky that we have some very generous suppliers who kindly leant their support to our competition and donated prizes. Prizes were awarded to the top ten drivers and included trophies, £1,000 holiday vouchers, grandstand tickets to Truckfest, Amazon Echos, VIP tickets to a Superbike race of the drivers' choice, Fitbit watches, goody bags from Mercedes Trucks and driver jackets from DAF trucks.
The Winners
Our overall winner this year was Roger Kretzschmar, a highly talented bulk liquid HGV driver from our Erith depot. Roger was presented with his trophy and prizes by Steve Granite at our head office. 2nd place went to Jerry Buckley, also a bulk liquid driver who is based at our depot in Hull. 3rd place went to Mark Lambert, one of the drivers working on our contract with Hovis transporting bulk flour across the UK.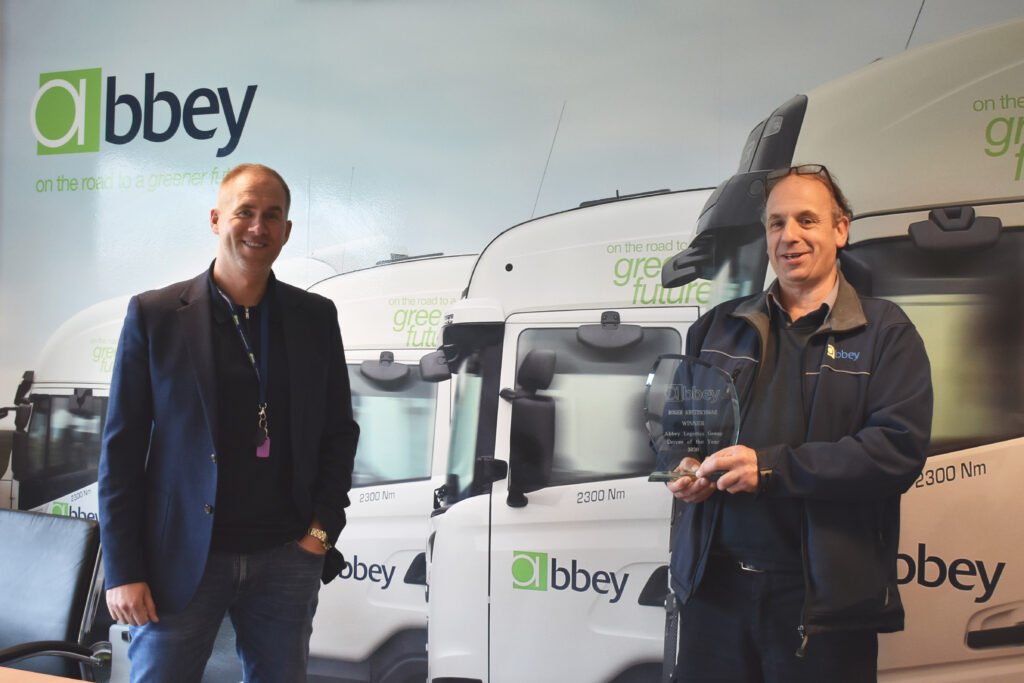 Abbey Logistics CEO Steve Granite presents Roger with his HGV Driver of the Year trophy.
Thank you to our sponsors
A huge thank you to our sponsors Microlise, North West Trucks, Aquarius, Mercedes Benz Trucks, Mantra, RTITB, and Medigold for supplying some amazing prizes for our drivers this year.
Congratulations Roger! Best of luck for next year!