Abbey CEO Steve Granite listed in FTA's 20 for 20 list
Posted on: 28th November 2019
The Freight Transport Association's (FTA) senior policy team has identified 20 key figures in logistics who they see as driving the sector forward in the coming year.
Released alongside their December issue of their Logistics Magazine, The FTA has produced 20 for 20, a new supplement that recognises individuals drawn from business, government and academia working across the supply chain. The supplement is sponsored by Santander Corporate and Commercial Banking.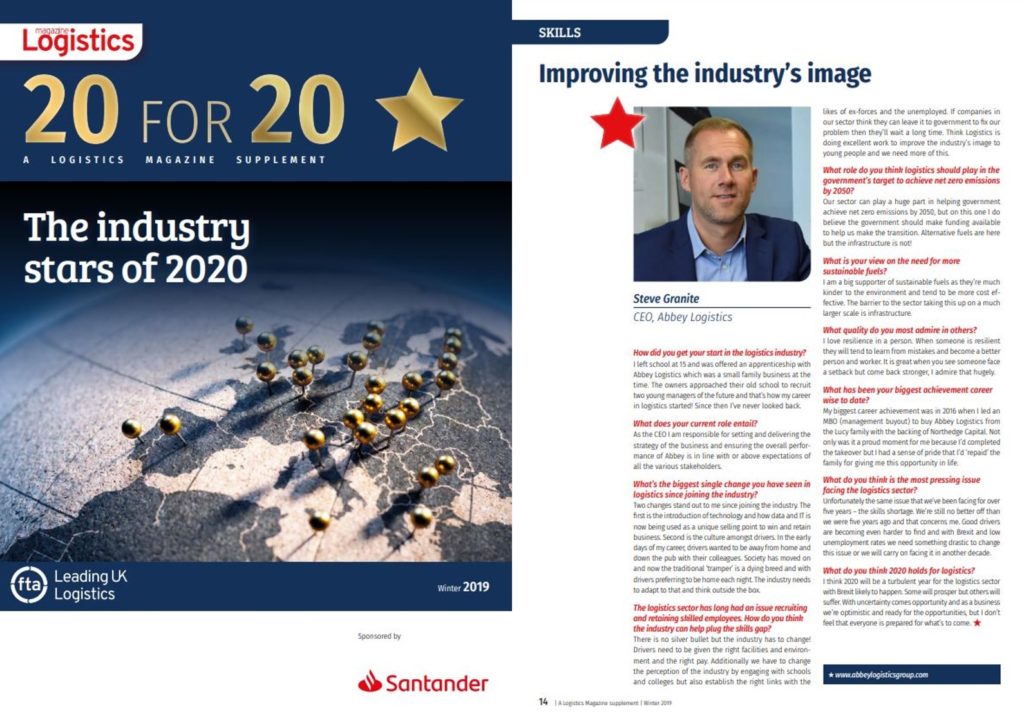 David Wells, CEO of the FTA, said: "The UK logistics industry is facing an era of unprecedented change, with pressures such as Brexit, climate change and recruitment shortages mixing with emerging technologies to provide new challenges and opportunities. In this turbulent environment, it is important we recognise the individuals that have made a positive contribution to the sector and who, in the view of FTA, are poised to drive the sector to new heights in 2020. By recognising and rewarding individual contributions in this way, we can challenge others to raise their game and help improve professional standards across the wider industry."
Abbey Logistics is delighted to see our CEO Steve Granite featured in the list, not least because of his work with the sector initiative Think Logistics, the project that works to make the logistics, transport and supply chain profession an attractive career of choice. In partnership with leading industry bodies and over 40 logistics companies, Think Logistics works to promote the logistics sector to 11-22 year olds through workshops, mentoring, internships, work placements and support.
Visit the FTA website here to download a copy and read the interviews with the 20 people they consider to be leading the way in our sector.