ABBEY & MICROLISE TAKE DEEP DIVE LOOK AT PERFORMANCE DATA FROM CORONAVIRUS LOCKDOWN PERIOD
Posted on: 20th May 2020
We all know that the roads have been noticeably quieter during the pandemic as great swathes of the population stay home and many businesses remain closed. So what, if anything, has been the impact on HGV operators who have been delivering critical supplies during this time and what can we learn?
According to Steve Granite, CEO of Abbey Logistics:
"We have all been trading in incredibly challenging circumstances, but as a result of quieter roads, we have seen an improvement to customer service and savings in repair and maintenance and an increase in MPG as well as nearly 6% increase in the average speed of our fleet. This means the fleet is doing more with less and our assets are much more productive and require less repair and maintenance thanks to more consistent driving.
"To get a better understanding of these benefits, how they could be sustained and what it could mean to Abbey and other operators when traffic and congestion increases, we began a project with Microlise to analyse the data to share with the sector, which will hopefully help all hauliers as we come out of the crisis and potentially also help influence decisions around traffic management and congestion in the future."
Abbey Logistics and Microlise began analysing Abbey's journey metrics for its fleet of 550 drivers, 400 trucks and 550 bulk liquid and powder tankers with initial results covering the period 30 days prior to and 30 days post, the UK lockdown.
Key Abbey Logistics' results:
Average Speed – improved group-wide by an average of 5.66% (from 36.6mph to 38.8mph)
MPG – increased by 2.6%
CO2 emission – percentage improvement across the group of 3.97% from MPG base point in February 2020.
Driving behaviour and performance:

Acceleration of >95% decreased from 5.61% to 4.53%
Engine Idling decreased from 2.51% to 2.04%
Greenband driving (where the vehicle is being driven within the most efficient and economical RPM range for that vehicle type) increased from 90.39% to 91.52%
Cruise Control increased from 45.72% to 53.15%
Note: Data drawn from period 27 February to 26 April 2020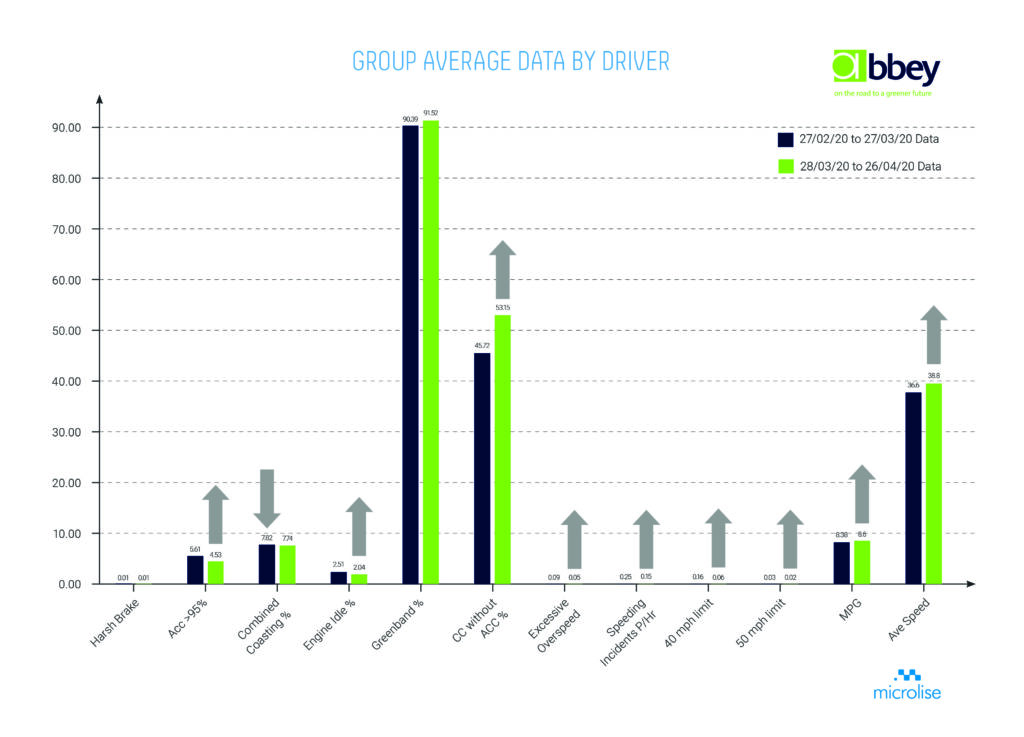 In addition to its work with Abbey Logistics, the Microlise Data Science & Operational Research team has analysed recent HGV and LCV movement to identify changes in movement patterns. Two metrics stand out – namely a 6-7% increase in mpg and a 37% reduction in unsafe driving behaviours, including over-speeding and harsh braking. For a fleet owner of any size, the capital cost savings to be realised across these two areas alone would be significant.
Key points from this wider data set include:
Average mpg improves by 6% – We can observe an increase starting on 16 March which peaks in the week starting 6 April then stays relatively stable at +6%/+7% above the baseline, with this increase driven especially across operators travelling shorter distances and making more stops.
37% decrease in number of over-speeding events per km – There is a decline starting from the 23 March, which reaches its lowest level in the week of the 13 April (-37%). The latest data shows that it has since gone up to -31% compared to the baseline, perhaps as roads become busier once again.
37% decrease in number of harsh braking events per km – This shows a similar pattern to over speeding data, with a decline from the week of 9 March, reaching its lowest level during the week commencing 6 April (-37%). Since then it has risen again to -29%.
Decrease in total mileage – From 23 March there was a decrease in mileage. It dropped to its lowest level during the week of 6 April with a fall of 27%. Since then it has moved up again to about -16%.
Is this data Significant?
So what learning can we take from the data analysis to apply as we move forward? Are there any practical steps that the sector and Government can take that will allow us to maintain these positive environmental and commercial benefits?
According to Steve Granite, the sector should act upon these indicators:
"Across almost every key metric of vehicle performance, traffic movement, driver safety and performance, fleet utilisation, repair and maintenance and customer service, we have registered positive results.
"Increasing average speed and miles per gallon contributes to significant cost savings for fleet operators of any size. When you combine this with improvements across driving behaviour and environmental impact, the results are compelling.
"We have a perfect opportunity to rethink our operations model and do things differently.
"Longer delivery windows and more night-time deliveries, provide for a more cost-effective and reliable customer service. We can also support our professional drivers to perform at their best, reducing stress level and keeping them safer while minimising road traffic incidents and any resulting asset damage.
"If we are prepared to shake-up our post-Covid 19 version of normal, we will all reap the rewards. We partnered with Microlise, to take as much of the guesswork out of our business analysis as possible. We now have concrete intelligence that we can and should act upon.
"It is clear that data will continue to play a key role in supporting our sector as it returns to a new normal and it makes commercial and environmental sense to act upon this to support hauliers and come out of this crisis with stronger and more effective operating models."