Transport Planning Apprentice, Hull
Posted on: 7th January 2022
Transport Planning APPRENTICE, based Littlefair Road, Hull.
With transport and logistics high on the nation's agenda, there has never been a better time to join this fast-paced and essential sector.
We have an opportunity to start your career at Abbey with a Level 2 Transport Planning apprenticeship which is Supply Chain Operator Level 2 accredited.  You will be gaining valuable workplace experience whilst working towards a widely recognised and highly sought after qualification.
The scope and breadth of what we do at Abbey Logistics are reflected in the range of apprenticeships and professional training opportunities we offer to talented and ambitious young people.
Providing hands-on experience in their chosen field, apprentices can and do play a key role in contributing to the future success of the company. In addition, to supporting the business, Apprentices gain on-the-job knowledge and experience from industry leaders while earning a competitive salary and studying towards a nationally recognised qualification.
Transport Planning Apprentice Role Purpose
Supporting the transport planning office through being a point of contact for customers and delivery points, customer order input and amending, collecting and uploading additional customer charges.
Support the planning desk with driver communications and allocation of daily jobs on Abbey's transport planning system.
Understanding how a transport depot runs and the time-critical customer expectations and the equipment it operates including workshop and wash bays.
Ensure that you adhere to health and safety practices, procedures and regulations within the supply chain environment.
Delivery and Training
This apprenticeship is delivered in the workplace with one day per week with the training provider.
The training is tailored to the needs of the individual and is delivered by highly qualified and technically competent training advisors. The programme is a blended combination of on the job tuition plus off the job master classes, workshops, e-learning content and professional discussions.
Additional training may be included, such as short courses in dangerous goods awareness and emergency First Aid at work as appropriate.
How To Apply
FOR FURTHER INFORMATION PLEASE CALL;

03300 552 855 (option 9)
Role requirements:
Planning vehicle routes throughout the UK & Europe
Good Communication skills
Customer focussed
Customer service liaison
Transport administration
Comfortable working in a fast-paced environment
Excellent attention to detail
IT literate
Desired Skills
Impeccable accuracy
Knowledge of accounting software (desired)
Excellent timekeeping
Ability to build good working relationships
Good attention to detail
Experience with data input, accounts payable and administration is desirable
Qualifications
GCSE Maths and English (Grade C or above)
Apprenticeships at Abbey, A proven route to a successful career 
Abbey's HR team works with several colleges across the UK together with training providers, to develop an apprenticeship scheme that provides the structure and guidance needed to support young people starting their careers with Abbey Logistics.
Our apprenticeships and trainee schemes support multiple areas of the business, from finance and customer service, to vehicle technicians and drivers, with each business area providing a fully trained mentor from within that division to offer guidance and support for the duration of the apprenticeship.
Wider support is provided by our HR team who work across all schemes as a point of contact for apprentices and to ensure both the apprentice and the business are getting maximum value from the scheme.
A TRIED AND TESTED APPROACH
Apprenticeship schemes and training programmes for young people is a key growth strategy championed by Abbey Logistics CEO, Steve Granite and delivered by Abbey's HR team. Having joined Abbey as an apprentice aged 16, Steve is an example of what can be achieved through earn while you learn schemes, and he appreciates the responsibility he and Abbey have as an employer to provide young people the opportunities and experience they need to start their careers.
As a business, Abbey has also seen the benefits young people can bring to the organisation, from fresh ideas to renewed energy. As the sector faces a skills shortage, Abbey is doing what it can to prepare for the future and ensure the security of the business for many years to come.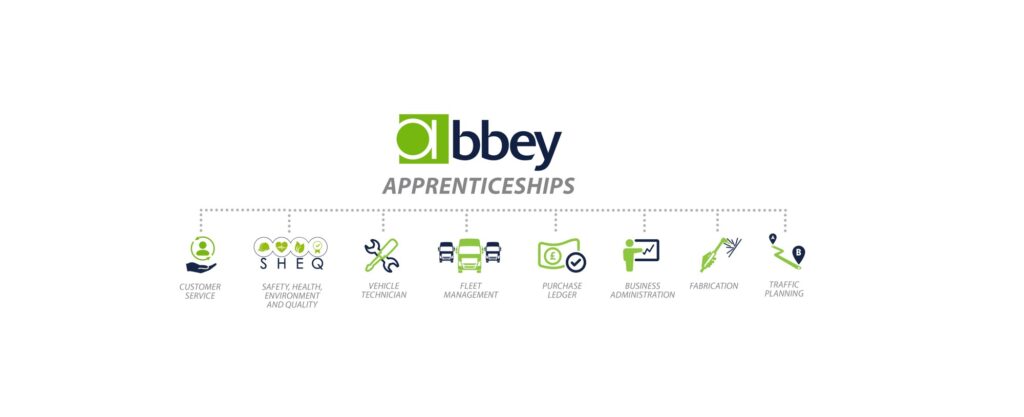 About Abbey
Abbey Logistics Group is made up of three industry-leading divisions operating at the highest level in their respective fields. Our business is based on exceptional talent and strong values and our people are the key to our success.
We have a proud record of accomplishment for identifying, attracting and developing the best talent in the logistics sector, which has enabled us to continue moving the business forward, growing with existing customers and attracting new business to the group.
The business is growing rapidly. We are now the UK's largest bulk food powder and liquids logistics provider and have diversified into other markets as our reputation for excellent customer service, best in class operations and our pro-active can-do spirit has spread.
Joining us is an opportunity to challenge yourself and work in a competitive, exciting and highly rewarding industry.
We have created a positive environment and our people thrive on overcoming challenges and exceeding our customers' expectations.