Class 2 to Class 1 HGV Driver Training and Full time job with British Sugar
Posted on: 20th October 2021
Following on from the success of Abbey Logistics' Class 2 to Class 1 HGV driver programme, Abbey's customer British Sugar has launched its own 'earn while you learn' Class 2 to Class 1 driver training which is designed and managed by Abbey's Driver Training Team and will be run alongside Abbey's existing Class 2 to 1 programme.
Abbey and British Sugar are calling on Class 2 drivers in Norfolk, Suffolk and Nottinghamshire, who are interested in obtaining their Class 1 licence, to get in touch.
The course offers fully paid training with a guaranteed HGV Driver role on successful completion and is a mix of classroom and practical, on-the-road learning.
If you are a Class 2 driver looking to make the transition to an HGV Class 1 Driver and would like to know more. Please call us on

07739 033948

or email careers@abbeylogisticsgroup.com
Courses will run from British Sugar's sites in Newark, Wissington and Bury St Edmunds.
CLASS 2 TO CLASS 1 HGV DRIVER TRAINING – WHO WE ARE LOOKING FOR
We welcome applicants who are enthusiastic and want to begin a rewarding HGV driving career with one of the UK's largest road tanker companies.
Abbey will provide a solid and professional category C+E (class 1)  licence acquisition training programme which is supported by a highly qualified and award-winning  Driver Training team and experienced driver mentors.
To be considered for this programme you must have:
A valid Category C (class 2) Licence
Driver Qualification Card
Max 3 penalty points on your licence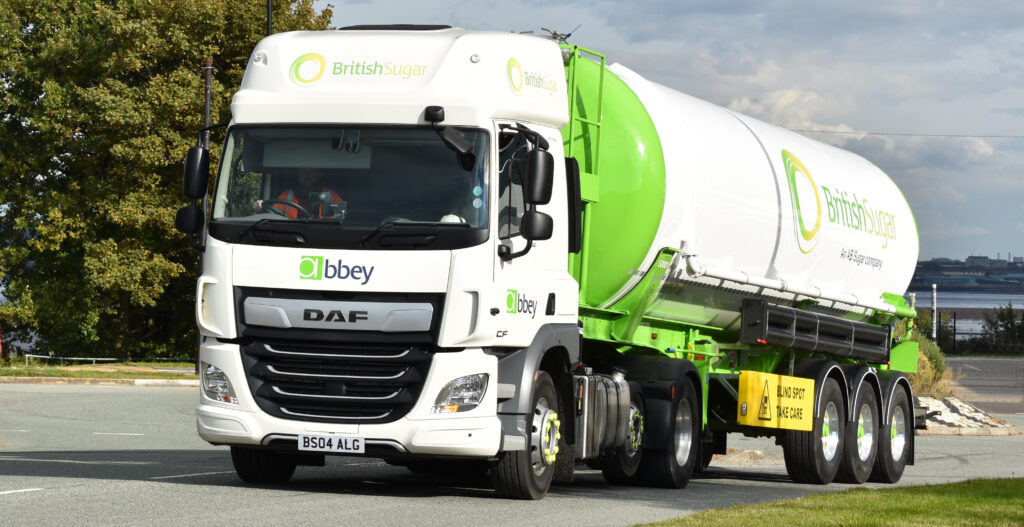 ABOUT ABBEY
Abbey Logistics has grown from a small family-run tanker company that started in Birkenhead Merseyside over 30 years ago, to a large international logistics group that consists of three divisions – bulk liquids, bulk powders and warehousing.
We operate through our network of more than 30 depots throughout the UK and have a fleet of over 550 bulk liquid and powder road tankers.
DRIVING FOR ABBEY
Our highly skilled driver team transports bulk liquid and powder food products, cement, polymers, and other non-hazardous liquids and powders throughout the U.K. and Northern Europe.
We have a fantastic and dedicated team of drivers who support the business through their commitment and high levels of skill and product knowledge. Some of our drivers have been with us for over 10 years and we are proud of our record of identifying and retaining the best drivers in the industry.
WORK/LIFE BALANCE
We appreciate the demands an HGV driving job can put on having a healthy work/life balance and we understand that being away from home all week is not suitable for everyone. For that reason, we try to create as many flexible shift patterns as we can for each of our vacancies so potential new drivers can choose whichever shift pattern suits them best. For drivers that enjoy the freedom and travel of long-distance haulage, we also have many opportunities for nights out work and deliveries from the South West of England right up to the Scottish Isles.
FLEXIBLE OVERTIME
Combined with the various shift patterns we have available from depots across the U.K. our drivers are able to work as much or as little overtime as they wish, including weekends, Bank Holidays and additional hours on top of their standard shift. Enhanced rates are available for overtime and earnings are uncapped meaning our drivers can work as many hours on top of their regular shift as they wish, up to working time directive rules.
GET IN TOUCH
Our recruitment team is available on the phone or email if you'd like to have an informal discussion about driving for Abbey, what to expect and the opportunities we have available.